About Us
Our facilities
At James Babb Workshops our experienced and talented team are producers of bespoke joinery, custom cabinetry, wood machining and spray finishing. From our fully equipped workshop near Salisbury in the Wiltshire countryside we offer a tailored and comprehensive design, make and install service.
Experience
Each individual component of our work is constructed by one of our highly skilled, time-served craftsmen. With years of experience and precise attention to detail, we work to the highest possible standards everytime.
Precision Craftsmanship
Handcrafted cabinetry carved out of the highest quality timber, our unique manufacturing process is one of the many things that sets us apart. Our traditional cabinet making skills using techniques such as mortise & tenon and dovetail joints are combined with the provision in our workshop of the latest machinery.  This allows us to design furniture precisely to fit any given space, no matter the dimensions of the room. Seamless production and millimetre-perfect design.
Design
Working with architects, designers, building firms, carpenters and private homeowners we provide bespoke solutions to very high standards at reasonable prices. We are uncompromising with every aspect of our craft from the design and selection of materials and throughout the process of making, finishing and installing.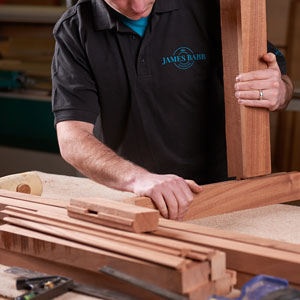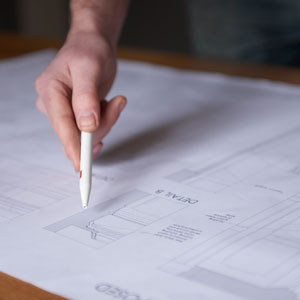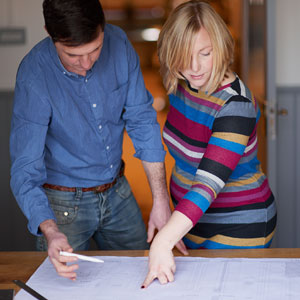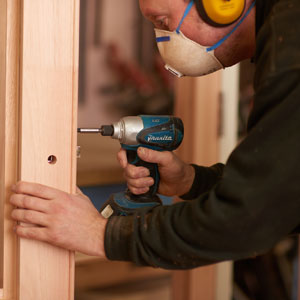 MEET THE TEAM
James grew up in a small woodland in the New Forest informally learning the basics of sustainable woodland management. He later embarked on a career in woodworking as an apprentice with a local cabinet maker and studied cabinet making at Rycotewood College, Oxford. In this and other roles, working with skilled makers, designers and specialists in cabinet making, joinery and kitchens, he developed an extensive skills base. James became self employed in 2009 and since then has been developing the team and workshop facilities to offer the range of fully comprehensive services available today.
The team of talented craftspeople in the workshop include specialist joiners, cabinet makers, machinists and sprayers. This is complimented by an experienced team of onsite fitters and a small office team to keep the cogs well oiled! The team at James Babb Workshops are committed to the highest level of attention to detail and customer service, and take great pride in their work.